California's Best Accident Injury Lawyer
Extensive Experience with Auto Accidents; Personal Injury; Workers' Compensation; and Wrongful Death Claims.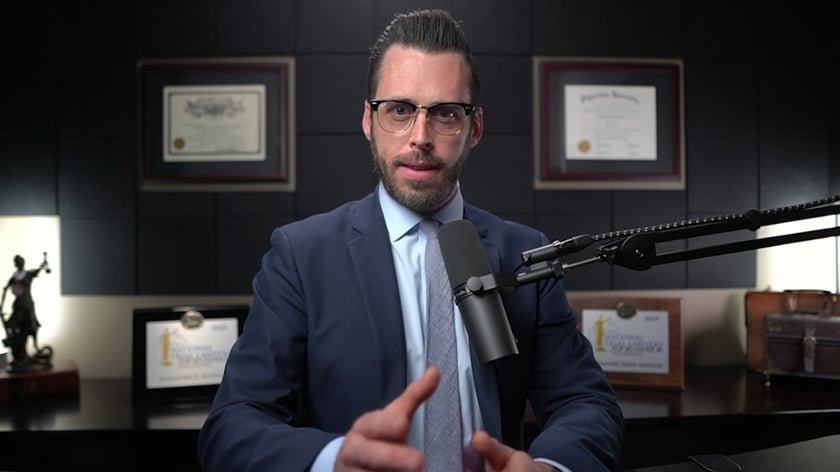 I promise that you will not pay any California injury attorney fees or costs unless your case is a success. No hidden fees, no hidden terms, I promise. - Alexander Napolin Esquire
Napolin Accident Injury Lawyer
Open Letter By Alexander Napolin Esquire
If you are hurt in an accident, you need to speak with the best California accident injury lawyer. The insurance company of the person who hurt you is not on your side. Do not listen to the advice of the insurance adjuster.
Top Accident Injury Attorney in California.
I am a top personal injury lawyer who asserts claims against the insurance companies using proven methodology. My approach when prosecuting accident injury claims results in successful outcomes for my clients. When you hire my law firm, you acquire an energetic and diverse legal team dedicated to your success.
Why Choose Napolin Accident Injury Lawyer
Choosing an accident injury law firm with a reputation of success is important. I have a track record of success. However, many firms boast that their years in practice and past trial wins make them your best attorney choice. Nothing could be further from the truth.
A law firm's length of existence and success on past cases will not determine the success of your case. In fact, many other factors will determine whether your case is successful or not. Case success means that a case is evaluated correctly, and then timely prosecuted in a way that improves the client's overall well-being. That's why my firm puts the focus on you and not on how much we have collected for others.
Since opening our doors in 2011, I have developed into a well-rounded California accident injury lawsuit law firm. My reputation as quality Ca. personal injury lawyers is not measured solely by the amount of money collected for my clients before you. Instead, it is best measured by the success stories that my clients experience when I apply my unique philosophy and method to their case. I have developed a great formula of success with client-attorney relationships that make each and every case a success. And, with a track record of success on literally thousands of accident injury cases, you know that you have chosen the very best to help you through difficult times.
Learn How I Can Help. Call Me.
If you would like to learn how we can help, your next step is to call our California law office. All calls are free and strictly confidential, so there is no risk to you.
Our client-focused legal team is ready to provide answers to all of your questions. Call 1-866-NAPOLIN to receive your free and confidential legal case consultation.
Napolin is a 100% plaintiff-side personal injury lawyer. This means that he never defends any insurance companies.
Napolin is a born native of Orange County. He graduated Troy High School and completed California State University, Fullerton in 2008 when he received two B.A. degrees, in American Studies and Business Administration. He earned his law degree from Pepperdine University School of Law in Malibu, California.
Napolin's notable cases include Sanchez v. Children's Dental Group and Spencer v. Stephen Paddock; MGM Resorts. He is currently working alongside the best trial attorneys on various cases involving catastrophic personal injury and wrongful death.
Napolin is dedicated to helping people with injuries of all magnitudes. If you are injured and need help, then you should submit your case for review with Napolin APC, Mr. Napolin's professional corporation.
Read what clients have to say

about Our Law Practice

I would like to start of by thanking Alexander and his entire staff for handling my case in a very professional manner. All of my calls were returned, I received good communication, and I had access to speak with a lawyer. Thankfully now all of my bills are covered and I have plenty left over to get back on my feet. I could not have made a better choice when I chose you to help me. I would definitely recommend Alexander and his team to all my friends, family, and anybody out there in need of a law firm that really knows how to take care of their clients.

Reviewer:

Roman Pascual
out of 5 stars
Read more reviews on Avvo
My Case Results Are Meaningful To Me, But My Greatest Achievement Is The Overall Positive Impact My Work Has On The Life Of Each Of My Clients. Remember, Past Case Results Are Not A Guarantee Of Success On Your Case.

- Alexander Napolin Esquire
✅ Notable Settlements And Judgments
California Workers Compensation History California Workers Compensation System Development – The laws that comprise California's current workers' compensation system developed over time. The origins of the system trace back to the industrial revolution in the late 19th century. In addition, as mass production and factories increased, many workers fell victims to employers' disinclination to take responsibility in…
Read More...
Contingency Fee Practice Areas:
Types include: Car Accident, Work Accident, Workers' Compensation, Dog Bite, Work Injury, Motorcycle Crash, Uber Accident, Traffic Collision, Lyft Crash, Head-on-Collision, Rear-End Collision, Slip and Fall, Wrongful Death Claims.
Take The Next Step On Your Road to A Successful Injury Recovery...Dial 866-NAPOLIN
If you have questions about a personal injury, work injury or auto accident injury, do not hesitate to take the next step to finding answers today.
A good way to find out more is through our free case consultation program. Call to see if we can help. All calls are confidential and completely free.